Kazushi Ono Music Director, renews contract until 2023
News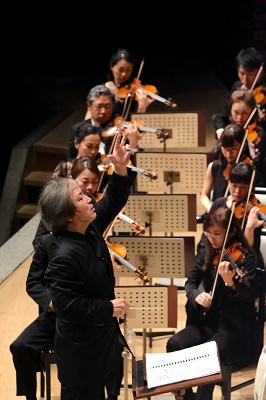 © Herbie Yamaguchi
Tokyo Metropolitan Symphony Orchestra is pleased to announce that the term of Kazushi Ono who has served as Music Director since April 2015 was prolonged until March 2023.
After his professional debut in March 1984 appearing with TMSO for the first time, Ono served as Conductor of TMSO (1990-92) and inaugurated as Music Director in April 2015 on a contract of five years. He has given excellent performances and deepened trusting relationship with the orchestra.
Ono has received great applause for various programs from classical works to the modern, including Mahler's works, which are one of the most important repertories of TMSO, and works of his contemporary and younger generations. Ono has also led TMSO 50th Anniversary Europe Tour 2015 to success and brought about a fruitful outcome for the orchestra. Moreover, he has been committed to special lectures in Maestro Visit, the outreach activity of TMSO for elementary, junior high and high school in Tokyo, concerts for elementary and junior high school students in Fukushima that suffered serious damage due to the Great East Japan Earthquake, and interactive concerts for people with disabilities.
We are confident that the extension of Ono's term will lead to the expansion of cultural actions toward Tokyo 2020 Olympic and Paralympic Games and further improvement and impetus of the artistry of TMSO.
Tokyo Metropolitan Symphony Orchestra
On the Occasion of Extension of the Term of Office
The grave sense of responsibility as Music Director of TMSO fell upon on my shoulders again when my term of office was extended for three years until 2023. Based on a tight bond between TMSO and me, I would like to bring you a greater variety of programs and will continue to build up my efforts so that the orchestra broadens its international reputation further more. I hope you will look forward to my performances with TMSO.
Kazushi ONO