April 2019 – March 2020 Season Lineup
News
The TMSO's 2019 Season Lineup
Kazushi ONO, Music Director, Tokyo Metropolitan Symphony Orchestra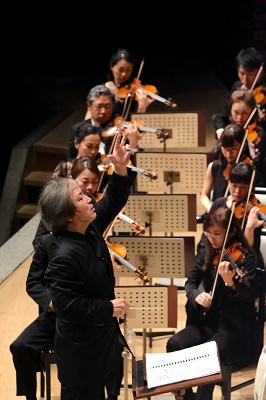 ©Herbie Yamaguchi
Last works, or very late works of composers feature prominently in the lineup of what will be my fifth season at the Tokyo Metropolitan Symphony Orchestra (TMSO) as Music Director.
Gustav Mahler, a composer deeply familiar to the TMSO, was also someone whose work predicted the future course of music. Presenting the many new ways in which music expanded its horizon post-Mahler has been one of my aspirations. In this sense, 2019 is to become a consummative milestone season preluding 2020, the year of the Olympics.
Symphonic Dances, the very last work by Sergei Rachmaninov, will feature in our April Subscription Concert. The swan song of a composer who struggled to keep up his compositional output after leaving Russia for the United States, the piece—a blend of Rachmaninov's distinctive brand of lyricism, and grotesque, ever-metamorphosing dances—is characterized by the modernism Rachmaninov ultimately arrived at.
Symphony No. 6 by Jean Sibelius is a very idiosyncratic composition written three years before his last orchestral piece, Tapiola. The Dorian mode—one of the ecclesiastical modes—imbues the piece with nostalgia, and the constantly drifting notes create a wondrous sense of rhythm melting away. Sibelius, a near-contemporary of Mahler, was arguably the composer who perfected the state of elegant simplicity.
Our September Subscription Concert will present the Violin Concerto, the last complete piece by Alban Berg, and Symphony No. 9, Anton Bruckner's last symphony. Berg was a well-known admirer of Mahler, and Mahler was a pupil of Bruckner (though Mahler seemed to have regarded him as a comrade). Somewhat of a parting message, both the Berg and the unfinished Bruckner, which consists of only three of the envisioned four movements due to his death, have a heavenly serenity capable of transporting audiences to a faraway world.
Symphony No. 10 by Dmitri Shostakovich will feature in our March 2020 Subscription Concert. The horn solo in the third movement has an affinity with the opening part of Mahler's Das Lied von der Erd. Likewise, the finale of Benjamin Britten's Spring Symphony, based on the medieval canon Sumer is icumen in, is associated with Mahler's Symphony No. 3 (the first movement of which was titled Summer Marches In at the time of its debut performance).
The centerpiece of our Subscription Concert program is above all the three Bruckner symphonies. We will present Symphony No. 4 "Romantic" conducted by Alan Gilbert, and Symphony No. 7 conducted by Kazuhiro Koizumi, and No. 9 myself. I hope audience members will enjoy the TMSO's rendition of sound reverberating across distant space, followed by quietness.
TMSO's maestro, Eliahu Inbal will be conducting Shostakovich's Symphony No. 11 "The Year 1905" and Symphony No. 12 "The Year 1917" with his hallmark exuberance, no doubt adding his master touch to the pieces.
Not to be missed are Mahler's Symphony No. 6 "Tragic" conducted by Alan Gilbert; the complete Daphnis et Chloé suites conducted by François-Xavier Roth; and Symphony No. 6 "Pathétique" conducted by Marc Minkowski. TMSO is also proud to be welcoming soloists—pianists Nikolai Lugansky, Anna Vinnitskaya, and Joaquín Achúcarro; violinists Sayaka Shoji, Veronika Eberle, Josef Špaček, and Tatsuya Yabe; cellists Dai Miyata and Edgar Moreau; and trombonist Jörgen van Rijen—who will be bringing even greater brilliance to our performances.
Our Promenade Concerts in 2019 will take audiences on a musical tour of the five continents. Amazing masterworks from countries around the world will be delivered by the TMSO, conducted by Andrew Litton, Kentaro Kawase, Eliahu Inbal, Kazuhiro Koizumi, and myself. Also in store are enthralling solo performances by Fumiaki Miura, Naoko Yoshino, Saskia Giorgini and Yusuke Yanagihara.
April 2019 – March 2020 Season Programs
(10. October 2018)
Subscription Concert A Series (Venue: Tokyo Bunka Kaikan; 19:00)

No.878


Tue. 28 May 2019, 19:00

Andrew LITTON, Conductor
Anna VINNITSKAYA, Piano

Barber: Second Essay, op.17
Prokofiev: Piano Concerto No.3 in C major, op.26
Tchaikovsky: Symphony No.4 in F minor, op.36

No.881


Tue. 16 July 2019, 19:00

KOIZUMI Kazuhiro, Conductor
MIYATA Dai, Violoncello

Dvořák: Cello Concerto in B minor, op.104 B.191
Brahms: Symphony No.2 in D major, op.73

No.884


Tue. 3 September 2019, 19:00

ONO Kazushi, Conductor
Veronika EBERLE, Violin

Berg: Violin Concerto, "Dem Andenken eines Engels"
Bruckner: Symphony No.9 in D minor, WAB109 (Nowak edition)

No.888


Mon. 7 October 2019, 19:00

Marc MINKOWSKI, Conductor

Schumann: Symphony No.4 in D minor, op.120 (1841 version)
Tchaikovsky: Symphony No.6 in B minor, op.74, "Pathétique"

No.890


Mon. 11 November 2019, 19:00

Eliahu INBAL, Conductor

Tchaikovsky: Francesca da Rimini, op.32
Shostakovich: Symphony No.11 in G minor, op.103, "The Year 1905"

No.893


Mon. 9 December 2019, 19:00

Alan GILBERT, Conductor
YABE Tatsuya, Violin

Liszt (arr. John Adams): The Black Gondola
Bartók: Violin Concerto No.1, Sz.36
Adès: Three Studies from Couperin (2006) (Japan Premiere)
Haydn: Symphony No.90 in C major, Hob.I:90

No.896


Mon. 3 February 2020, 19:00

François-Xavier ROTH, Conductor
Ritsuyu-kai, Chorus

Rameau: Les Indes Galantes, Suite
Ravel: Daphnis et Chloé

No.898


Mon. 9 March 2020, 19:00

ONO Kazushi, Conductor

Berg: Drei Orchesterstücke, op.6
Shostakovich: Symphony No.10 in E minor, op.93
Subscription Concert B Series (Venue: Suntory Hall; 19:00)

No.877


Fri. 26 April 2019, 19:00

ONO Kazushi, Conductor

Takemitsu: A Flock Descends into the Pentagonal Garden (1977)
Sibelius: Symphony No.6 in D minor op.104
Rachmaninov: Symphonic Dances, op.45

No.880


Tue. 25 June 2019, 19:00

Krzysztof PENDERECKI, Conductor
SHOJI Sayaka, Violin

Penderecki: Prelude for Peace (2009)
Penderecki: Metamorphosen – Violin Concerto No.2 (1992-95)
Beethoven: Symphony No.7 in A major, op.92

No.883


Thu. 25 July 2019, 19:00

Alan GILBERT, Conductor

Mozart: Symphony No.38 in D major, K.504 "Prague"
Bruckner: Symphony No.4 in E-flat major, "Romantic" (Nowak: 1878/80 version)

No.885


Wed. 4 September 2019, 19:00

ONO Kazushi, Conductor
Veronika EBERLE, Violin

Berg: Violin Concerto, "Dem Andenken eines Engels"
Bruckner: Symphony No.9 in D minor, WAB109 (Nowak edition)

No.889


Wed. 16 October 2019, 19:00

KOIZUMI Kazuhiro, Conductor

Wagner: Siegfried Idyll
Bruckner: Symphony No.7 in E major, WAB107 (Nowak edition)

No.894


Mon. 16 December 2019, 19:00

Alan GILBERT, Conductor

Mahler: Symphony No.6 in A minor

No.895


Thu. 16 January 2020, 19:00

Martyn BRABBINS, Conductor
Jörgen van RIJEN, Trombone

Ravel: Le Tombeau de Couperin
MacMillan: Trombone Concerto (2016) (Japan Premiere)
Elgar: Variations on an Original Theme, op.36, "Enigma"

No.897


Wed. 4 March 2020, 19:00

ONO Kazushi, Conductor
NAKAMURA Eri, Soprano
SHIMIZU Kasumi, Mezzo-Soprano
Topi LEHTIPUU, Tenor
The Little Singers of Tokyo, Children's Chorus
New National Theatre Chorus, Chorus

Berlioz: Overture to "Béatrice et Bénédict"
Debussy: Jeux, Poème Dansé
Britten: Spring Symphony, op.44
Subscription Concert C Series (Venue: Tokyo Metropolitan Theatre; 14:00)

No.876


Sat. 20 April 2019, 14:00

ONO Kazushi, Conductor
Nikolai LUGANSKY, Piano

Grieg: Piano Concerto in A minor, op.16
Berlioz: Symphonie Fantastique, op.14

No.879


Sat. 8 June 2019, 14:00

Alejo PÉREZ, Conductor
NAGAO Hiroshi, Piano *
KATO Nozomi, Mezzo-Soprano **

Stravinsky: Petrushka (1947 version) *
Falla: El sombrero de tres picos **

No.882


Wed. 24 July 2019, 14:00

Alan GILBERT, Conductor

Mozart: Symphony No.38 in D major, K.504 "Prague"
Bruckner: Symphony No.4 in E-flat major, "Romantic" (Nowak: 1878/80 version)

No.886


Sun. 8 September 2019, 14:00

ONO Kazushi, Conductor
Joaquín ACHÚCARRO, Piano

Sibelius: The Swan of Tuonela, op.22-2
Rachmaninov: Piano Concerto No.2 in C minor, op.18
Sibelius: Symphony No.2 in D major, op.43

No.887


Wed. 2 October 2019, 14:00

Philipp von STEINAECKER, Conductor
Edgar MOREAU, Violoncello

Suppé: Overture to "Leichte Kavallerie"
Offenbach: Concerto Militaire, for Cello and Orchestra in G major (Japan Premiere)
Suppé: Overture to "Die schöne Galathée"
Offenbach: Interlude and Barcarolle from "Les Contes d'Hoffmann"
Offenbach: Overture to "Orphée aux Enfers"

No.891


Sat. 16 November 2019, 14:00

Eliahu INBAL, Conductor
Josef ŠPAČEK, Violin

Shostakovich: Violin Concerto No.1 in A minor, op.77
Shostakovich: Symphony No.12 in D minor, op.112, "The year 1917"

No.892


Sun. 8 December 2019, 14:00

Alan GILBERT, Conductor
YABE Tatsuya, Violin

Liszt (arr. John Adams): The Black Gondola
Bartók: Violin Concerto No.1, Sz.36
Adès: Three Studies from Couperin (2006) (Japan Premiere)
Haydn: Symphony No.90 in C major, Hob.I:90

No.899


Fri. 27 March 2020, 14:00

KOIZUMI Kazuhiro, Conductor

Mozart: Overture to "Die Zauberflöte", K.620
Yuasa: Symphonic Suite "The Narrow Road into the Deep North: Bashô" (1995)
Dvořák: Symphony No.8 in G major, op.88 B.163
Promenade Concert Series (Venue: Suntory Hall; 14:00)

No.382


Sun. 2 June 2019, 14:00

Andrew LITTON, Conductor
MIURA Fumiaki, Violin

Loewe: Overture to "My Fair Lady"
Korngold: Violin Concerto in D major op.35
Dvořák: Symphony No.9 in E minor, op.95 B.178, "From the New World"

No.383


Sun. 20 October 2019, 14:00

KAWASE Kentaro, Conductor
YOSHINO Naoko, Harp

Sculthorpe: From Oceania (2003) (Japan Premiere)
J.Strauss II: Egyptischer Marsch, op.335
Rodrigo: Concierto de Aranjuez (version for Harp)
Ifukube: Ballata Sinfonica
Ravel: Boléro

No.384


Sat. 23 November 2019, 14:00

Eliahu INBAL, Conductor
Saskia GIORGINI, Piano

Shostakovich: Festive Overture, op.96
Rachmaninov: Rhapsody on a Theme of Paganini, op.43
Tchaikovsky: "Romeo and Juliet" Fantasy Overture
Tchaikovsky: 1812 Overture, op.49

No.385


Sat. 8 February 2020, 14:00

KOIZUMI Kazuhiro, Conductor

Verdi: Overture to "La Forza del Destino"
Liszt: Les Préludes, S.97
Mussorgsky: Introduction "Dawn on the Moscow River", "Khovanshchina"
Khachaturian: Sabre Dance, Dance of the Rose Maidens and Lezghinka from "Gayane"
Rimsky-Korsakov: Capriccio Espagnol op.34
Bizet: "L'arlésienne", Suite No.2

No.386


Sun. 22 March 2020, 14:00

ONO Kazushi, Conductor
YANAGIHARA Yusuke, Flute

R.Strauss: Till Eulenspiegels lustige Streiche, op.28
Nielsen: Flute Concerto
Ravel: Pavane pour une infante défunte
R. Strauss: Der Rosenkavalier, Suite
TMSO Special
Hachioji Series
Sat. 6 April 2019, 14:00 at Olympus Hall Hachioji

KOIZUMI Kazuhiro, Conductor
YONEMOTO Kyoko, Violin

Tchaikovsky: Violin Concerto in D major, op.35
Tchaikovsky: Symphony No.4 in F minor, op.36
TMSO Special Concert in Osaka
Sun. 21 April 2019, 14:00 at Festival Hall
ONO Kazushi, Conductor
Nikolai LUGANSKY, Piano
Grieg: Piano Concerto in A minor, op.16
Berlioz: Symphonie Fantastique, op.14
TMSO Special
Sat. 14 December 2019, 14:00 at Suntory Hall

Alan GILBERT, Conductor

Mahler: Symphony No.6 in A minor
TMSO Special "Beethoven's 9th"
Mon. 23 December 2019, 19:00 at Tokyo Metropolitan Theatre
Tue. 24 December 2019, 19:00 at Suntory Hall
Wed. 25 December 2019, 19:00 at Tokyo Bunka Kaikan

Leoš SVÁROVSKÝ, Conductor
YASUI Yoko, Soprano
TOMIOKA Akiko, Mezzo-Soprano
FUKUI Kei, Tenor
KAI Eijiro, Baritone
Nikikai Chorus Group, Chorus

Beethoven: Symphony No.9 in D minor, op.125, "Choral"
TMSO Special
Sun. 2 February 2020, 14:00 at Suntory Hall

François-Xavier ROTH, Conductor
Ritsuyu-kai, Chorus

Rameau: Les Indes Galantes, Suite
Ravel: Daphnis et Chloé